Other Ceremonies
Peter also offers other ceremonies as needed by people to celebrate and acknowledge significant life events.
Naming Ceremonies
A naming ceremony is an important ritual. For babies and young children it is a sign of valuing the newness of life and their uniqueness. It is a time when parents, siblings, family and friends can honour and welcome the arrival of a new life. It is a time to dedicate the special name of the celebrated person.
Peter offers a personal poem, incorporating individual thoughts and qualities of the named person and family, to be written, recited and presented as part of the ceremony. A naming certificate will also be presented.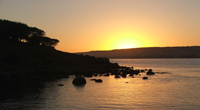 Funerals
A funeral is an important rite of passage. In the conduct of a funeral ceremony, it is imperative that tribute and reflection are provided in a balanced and respectful manner. Peter will work closely with the family to ensure every detail of the funeral service is carried out according to the wishes of the family. The ceremony will respectfully honour the deceased by personalising what is said and includes the writing of a poem as a tribute to the life of the person. Bound copies of all words spoken are given to key family members.
Commitment Ceremonies
A commitment ceremony provides a way of honoring your relationship with your partner and an opportunity to reaffirm ongoing love. Peter will be guided by the values that are important in the relationship and these symbols will be utilised as the basis for this ceremony.
Love one another, but make not a bond of love: Let it be rather a moving sea between the shores of your souls...

—Kahlil Gibran