Testimonials
Dear Peter and Trish,
Thank you for sharing our special day. You put together a beautiful ceremony with plenty of warmth, spirit and love. You both were a calm and reassuring presence when our nerves and emotions were running high! Thank you
Lots of Love,
Sunny and Nicol
Dear Peter,
"A BIG thankyou" for a wonderful ceremony. You did a fantastic job. Everyone really enjoyed it….it was very special and thank you for the poem, we will always treasure it!
Cheers,
Tony and Nikki
Dear Peter,
A loving note can barely express how you have added to our happiness. We would like to send our sincerest thanks for the wonderful job you did at our wedding. It was romantic and just as we planned
With Love,
Ashley and Christine
Dear Peter,
Thank you for the brilliant wedding ceremony and all the support leading to it. The ceremony was exactly what we were after – fun, casual and relaxed. You managed to capture our relationship and our dreams perfectly
Jodi and Seb
Peter,
Thank you for all your help with the wedding. You were a perfect pick for us and an excellent celebrant. We could tell you really enjoy what you are doing. You are a talented writer and the poem made it all the more special. Keep making peoples' ceremonies extra special!
Gemma and Shaun Harre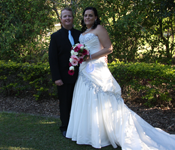 Hi Peter,
Michael and I would like to say a very big thank-you to you and your lovely wife for an amazing wedding ceremony. The day was wonderful and we couldn't have asked for a better celebrant. It touched our hearts, and has helped us realise that we are indeed soulmates who love each other more than life itself.
Many of our guests commented on the ceremony, most saying how perfect it was for Michael and I. Eventhough there were more than a few nerves on my part, you made me feel extremely comfortable in your presence and I really appreciate everything that you both did to make the ceremony just perfect.
I cannot speak highly enough of your beautiful nature and exceptional ability to make the ceremony so personal and loving. This will always be our big day that we remember for years to come, and we have great memories, thanks to the both of you.
Thank You,
Kelly and Michael Lynch
Hi Peter!
Our ceremony was so heartfelt and everything we were hoping for - our friends and family commented on how relaxed and special it was (even though it was one of the coldest days we'd had!)
Everyone loved the poem as well - I think a few married couples were wishing they had had you as their celebrant!
Thanks again Peter and we'll talk to you soon,
Melissa and Chase Archer
Hi Peter,
Justin and I would just like to say thanks for everything, the ceremony was great. and you did the best job ( our wedding was definitely the best wedding by far... hahaha) everyone commented on the poem and said how talented you were. But all in all you did an amazing job and just can't thank you enough. many thanks.
Tenielle and Justin
Hi Peter,
Thank you so much for the copy of our wedding poem. We received it in the mail it is beautiful and something we will treasure as a memory of our special day. In reflecting on the day we could not have asked for anything else. it was such a lovely day and everyone we talked to agreed. You did a wonderful job with the ceremony and it reflected everything Matt and I stand for. It was so special. We hope you enjoyed your selves. Please offer our thanks to Tricia also for helping us with the music. It all came together just perfectly.
Regards,
Tracey and Matt Bosanko
Dear Peter,
Thankyou for the photo and thanks also for helping us make our wedding day so special. Our family and friends, including us, thought that you where absolutely fantastic. We hope you and Tricia have a wonderful Christmas with all your family. Take care and have a happy New Year helping make many other couples just as happy as we are.
Love,
Roz and Ben Lovell
Dear Peter,
Mat and I would just like to say a huge 'thank-you' for making our wedding ceremony so special and memorable. You helped us to create a ceremony that was uniquely ours, which reflected our personalities and expressed the way that we feel about each other & our families & friends.
We can't thank you enough – your humble approach and the way you made us feel as though we were special and that our ceremony was as important to you as it was to us, really made our day that much more perfect. We had so many comments as to how great a job you did & I would have absolutely no qualms recommending you to anyone looking for the perfect celebrant!
From the bottom of our hearts – thank you.
Yours sincerely,
Jess and Mat McCullagh
I would really like to thank you so very much for making our wedding day absolutely perfect. You were exactly what we had hoped, and more and are so pleased you married us. Your poem about Scott and I was fantastic, and I can tell you that everybody has commented on how beautiful it was and how you were able to write it without knowing us and be spot on. Our friends and family still talk about the ceremony and poem - especially my mum who shed a few tears whilst you read it (and still does when we talk about it!).
Thank you for giving us a memory that we will cherish forever.
Take care,
Scott and Holly Auchter
Hi Peter,
Just wanted to say thank you so very much for being our celebrant on Saturday, and for everything that you did for us in the lead up to the big day. Being our first time, we were both very nervous and organising the day seemed increasingly daunting.
Your professionalism, yet easy going nature, made the day so very special for the both of us. All of our guests have raved about how good 'the celebrant' was, and we will certainly be passing on your details to those that are looking for a celebrant. (The poem was a big hit!)
Pls also pass on our thanks to Trish, for her invaluable assistance as well. Hope everything goes smoothly with the move to your new house, and also with your future celebrant work.
Regards,
Dave and Jill
This is just a quick email to thank you for the lovely and moving ceremony that you performed for us. The poem that you wrote in relation to the formation of our relationship and why we feel the way we feel was wonderful and very well received by all who attended. The binder that you gave us at the conclusion of the ceremony has given us a keepsake that will be treasured by us both for the remainder of our lives.
We are so grateful that it was you that we contacted to perform the ceremony for us, as we firmly believe that no one would have created the atmosphere or put such a personal touch to the ceremony as you did. Words cannot thank you enough for everything, we hope to cross paths with you again in the near future.
Thank you for celebrating our love and the union of our love with us. We have just received the photo and poem photo. Thank you very much for that. It is beautiful. Again we cannot thank you enough for the outstanding and personalised effort that you put in on our wedding day. You are a wonderful person.
Take Care,
James and Chantel Leahy
The day was truly magical and much more than either of us had expected or hoped for. Thank you for all your time and performance of the ceremony. We have had many comments about how wonderful it was.
I received the beautiful poem and picture you had given to my mum to bring over to New York. Michael and I were both very touched and it is something we will keep forever.
Tammy and Michael
More than half a dozen of our guests commented on the excellent job you did, and were blown away when I told them 'no, I did not write the poem, Peter did!' They ALL commented that you have gone above and beyond what an ordinary celebrant does. With that I agree and for that I thank you. You made our day so much more special with the ceremony you put together for us.
From my heart – thank you Peter. Thank you, thank you, thank you.
Meg and Steve
We just wanted to thank you again for contributing to our very special day. We had a fantastic time and thought the ceremony was beautiful. We will read your poem in days to come and will always hold fond memories. All the best for 2009!
Belinda and Sam Sippe
Brett and I wanted to thank you for being an amazing celebrant at our wedding. You really set the tone for the ceremony as we wanted it to be relaxed and fun, and we couldn't have asked for a better ceremony. The poem was a bit hit! and it was great to have something a bit different in the ceremony than the usual readings. Thanks again!! and thanks Trish for playing the music! :-)
Kind regards,
Brett and Shylie
Nothing in life is more profoundly true than to find someone worth loving who cherishes you deeply too
— Peter Waterman
—